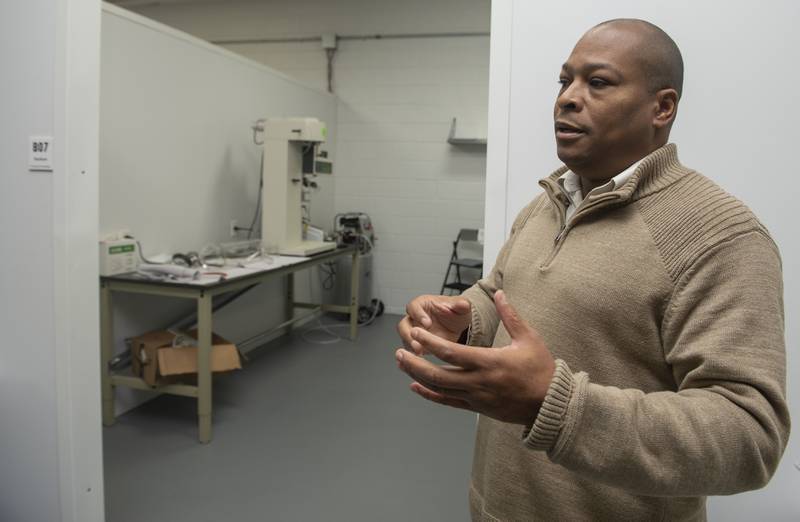 Kyle Flanigan, CEO and co-founder of U.S. Specialty Formulations, talks about the company Thursday, Feb. 10, 2022, at its facility in Allentown. The biotech company is working to develop an oral COVID vaccine. (Rick Kintzel/Morning Call)
For Kyle Flanigan of Bethlehem, one of few African Americans in a pharmaceutical business leadership position, getting into the field wasn't a challenge; it was what came afterward. "The challenge for Black people in this industry is recognition and promotion," said Flanigan, 51, co-founder and chief executive officer of US Specialty Formulations, which makes medications and vaccines.
The numerous systemic and institutional challenges for Blacks have been well documented by others," said Flanigan, who declined to discuss anything negative he may have experienced. His focus is instead on making USSF the first company to get an oral COVID vaccine approved for public use. That history-making accomplishment could add Flanigan to the list of people whose contributions are celebrated during Black History Month.
However, Flanigan's demeanor doesn't indicate someone who'd let it go to his head. He admits his simple love for his line of work outweighs any desire for glory. "Creating an oral vaccine [for any illness] is an extraordinarily difficult process," Flanigan said. "People have been trying for a very long time.
Before it can be approved by the Food and Drug Administration for public use, a vaccine must go through pre-clinical-trial lab testing and then three clinical trial phases, where it's tested on progressively larger numbers of people.
Read More