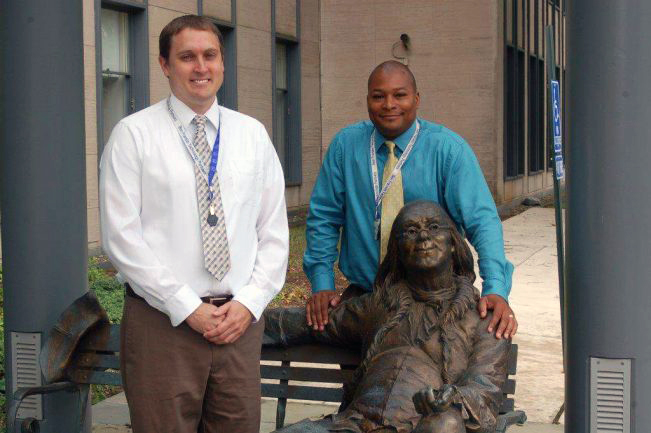 Drs. Garry Morefield (left) and Kyle Flanigan (right) at Ben Franklin Tech Ventures
Bethlehem, Pennsylvania, September 1, 2020 — Two promising new COVID-19 vaccines show positive results in pre-clinical trials, according to a new alliance formed by VaxForm LLC, a vaccine development company and US Specialty Formulations LLC, a cGMP pharmaceutical manufacturing company.
The alliance was formed in the Ben Franklin TechVentures business/technology incubator where both companies are headquartered. These new vaccines utilize novel delivery platforms for COVID-19 with one oral delivery and the other a conventional injectable. Both vaccine formulations produced antibodies in 100% of mice in pre-clinical trials.
The results of the pre-clinical trials are as follows:
CoV2-OGEN1 incorporates a novel oral-delivery platform, allowing individuals to obtain immune response orally without injection.

Creating immunity orally, in the mucous membranes, has the advantage of combating SARS-CoV-2 at the initial site of infection.
100% of mice receiving CoV2-OGEN1 produced mucosal and serum antibody titers against the SARS-CoV-2 protein.
CoV2-PGEN1 incorporates a novel system to induce immune response following a vaccine injection.

A mixed immune response reduces the risk of antibody-mediated disease enhancement, increasing the likelihood vaccine effectiveness would eventually be compromised.
100% of mice receiving CoV2-OGEN1 produced mucosal and serum antibody titers against the SARS-CoV-2 protein.
"This vaccine candidate has the potential to provide solutions to the many challenges brought on by the emergence of the SARS-CoV-2 virus and the resulting global pandemic," says Elodie Burlet, PhD, Deputy Director of Process Development at VaxForm. "The oral delivery platform is not only the ideal route of administration to combat a COVID-19. It also offers the unique advantage of self-administration and provides the ability to stockpile the vaccine, facilitating manufacturing, storage, and distribution. The established relationship and proximity between VaxForm and USSF will be key in ensuring successful technology transfer and production scale up."
Investigational New Drug enabling studies (ING) are ongoing for both vaccine platforms.
The Vaccine Development Process
VaxForm initiated the development of its COVID-19 vaccine candidate in April of 2020. The company's strategy is to apply its oral delivery platform technology to the widely used and safe protein-based vaccine approach. The receptor-binding domain (RBD) of the SARS-CoV-2 spike protein has been shown by research laboratories around the world to be an optimal target for a COVID-19 vaccine.
A few months later in July of 2020, VaxForm successfully identified a purification and formulation process and initiated pre-clinical studies. At the same time, USSF began scaling-up its recently acquired 41K manufacturing facility to accommodate high-volume production in early 2021.
Months of R&D led to the optimization of the recombinant RBD protein production in-house and the selection of a lead formulation. The companies tested the two vaccine platforms in mice in July 2020. Both oral and injected COVID-19 vaccine formulations have shown positive results. The vaccines trigger antibody generation in both the mucosa (oral) and serum (blood), respectively, at levels which historically provide immunological protection. Further, mixed antibody titers were generated, which is what vaccine experts hope to see from safe and effective vaccines targeting COVID-19.
"The data from this study provides clear justification for USSF to increase its investments in manufacturing infrastructure to support global partners in immunizing their populations against COVID-19," said Kyle Flanigan, Ph.D., Chief Executive Officer of US Specialty Formulations. "I am also confident that the platform will succeed and be adopted to combat additional viruses in the coming years."
"US Specialty Formulations has the experience and expertise to rapidly scale CoV2-OGEN1 and CoV2-PGEN1 into Current Good Manufacturing Practice (cGMP) production, allowing clinical evaluation and global distribution of this critical vaccine," said Garry Morefield, Ph.D., President of VaxForm.
Both VaxForm and USSF are clients of the Ben Franklin Technology Partners of Northeastern Pennsylvania and resident companies in the Ben Franklin TechVentures business/technology incubator, Bethlehem.
About VaxForm LLC
VaxForm LLC is an advanced research company focused on vaccine development. As part of its R&D efforts, VaxForm has developed formulation platforms for oral administration (liquid suspensions and capsules) as well as the traditional injectable immunization. Additionally, VaxForm provides contract development and consulting services to many of the world's leading vaccine manufactures.
About US Specialty Formulations, LLC
US Specialty Formulations LLC (USSF) is a Current Good Manufacturing Practice (cGMP) manufacturer of sterile injectable, topical, and specialty pharmaceuticals. USSF manufactures its own branded prescription products, provides clinical materials for investigational new drug applications (INDs), and specialty formulations requested by health networks and healthcare providers worldwide. US Specialty Formulations is a Black-Owned Business.